Passing Notes Today: Mrs. Williams
Hey Girls -
So, my mom always says that the key to a good present is good listening. She's right. Some of my favorite gifts (big or small) are always connected to someone getting me something that I may have mentioned in passing. For example, Mrs. Kelly bought me an MG (a British sports car) for my last birthday. OK, so not a real MG, but a toy replica of one that I said I would love to own someday. It sits on my bookshelf and I love it! Another friend bought me a subscription to People magazine. She got it because I mentioned always getting in the longest line at the grocery store so I could see how the stars are "Just Like Us" (they pump gas) - cracks me up every time. Again, a great gift. So, when my friend, Mrs. K., mentioned that the monogrammed-letter-pillow she wanted to buy on the Land of Nod's website was sold out, I knew what I had to do...make her one myself.
Here's the
Land of Nod
version: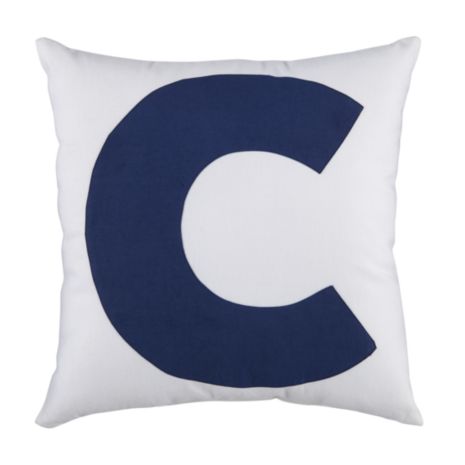 This guy costs $19 plus tax and shipping.
Here's the process for making one for Mrs. Kelly:
1. Buy a pillow (one with a zipper so that you can remove the stuffing). Or, better, use a pillow that you already own!
2. Create a letter pattern. (I just typed the letter on Microsoft Word, enlarged it to 700, and printed it out.) Then cut it out. Then, pin the letter onto the monogram fabric (I used felt). (Remember to put it backwards if you're pinning it to the back of the fabric.)
3. After your monogram is cut out, pin it onto the front of the pillow. Use a ruler to center it just right. Pin like crazy.
4. Sew. I used contrasting thread (lime green) and used a zigzag stitch around the letter. I was worried that it might be hard maneuvering it around (and it kind of was). To help, I just kept shoving the pillow around as I zigzag stitched around the letter (slowly)(twice). Oh, and if you don't have a machine, you could totally hand sew the letter on.
5. Put the pillow liner back inside.
That's it. Mine is definitely not perfect. Should we call it "homemade charm?" At any rate, I hope Mrs. Kelly will like the pillow. The good news is that if she doesn't, they are going to be shipping "C" pillows again in late October. This guy should hold her over until then.
"C" you later,
Mrs. Williams
Mrs. Kelly Comment: Yay for not-so-subtle hinting! I love this pillow. I love it even more because you made it. Also, yours has cooler thread...dig the lime with the blue! Here it is in its new home. Also, maybe I could sew this. I don't want to brag but I did make a mean ice cream cone pillow in 8th grade Home Economics. Thanks for the gift and thanks for sharing how to make it!