Passing notes today and reliving the bathroom gut job horror: Mrs. Gosling
Hello blog mamas!
Before I begin I would like to thank my husband, kids, parents and 1 very knowledgeable carpenter. This double bathroom process is a bit of a blur (thankfully) and without their patience, not only with years of inadequate bathrooms, but with helping remodel ... this would not be possible. You know how they say "it takes a village to raise a child." Well, in this house, we also say "it takes a village to GUT a bathroom!"
Let the games begin!
So, in the last bathroom remodel ..... remember I said that our budget was only $1800 (spent $2100)? Yea, not true for this one. Stay tuned for the final tally ... I need some time to digest the figures so I don't have a major panic attack (I'm kidding, but really it was a big pill to swallow and we have been eating rice and mac n cheese ever since) ... BUT, we have 2 amazing bathrooms and the toilets always flush and never leak (imagine me jumping up and down right now, I'm not doing it, but I want to)!
Here's the skinny on our master bathroom. It was small (6 x 6) with a little vanity, minuscule size toilet that was original to the house and a neo-angle shower. After we gutted everything, tore down the wall separating the closet and bathroom and added 20" of depth .... it seems so much bigger. It's really only about 10 sq. ft. larger ... but with the shower/tub combo, updated lighting and brighter decor - it makes a world of difference.
Here are a few before shots. Please excuse the poor quality, most of them were taken with my horribly cracked IPhone and in bad lighting:

_________________________________________________________________
Here's the skinny on the new bathroom inspiration. In April 2011, my family and I took a trip to Nags Head, OBX and we stayed in a FABULOUS house on the Ocean (FYI, if you are able to get your family there and everyone pitches in, this vacation is cheapey cheap and amazing). The house was an 8 bed/10 bath home and every bathroom had some version of hexagon carrera marble on the floor and shower. I immediately thought of our bathroom and what I would do when we rehab'd. So, my search began for the best way, to not only achieve this same look but afford it at the same time.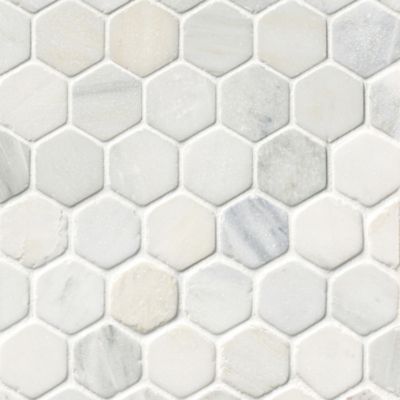 Yes, that's exactly what I said when I saw this little lover-ly of a tile at The Tile Shop on Jefferson Road in Henrietta, NY. Like I said, carrera marble was my inspiration and I was determined to have it. I justified the splurge, because I was going to "budget friendly" the rest of the bathroom (with the exception of the DISGUSTINGLY HUGE AMOUNT OF PLUMBING WORK NEEDED). Sorry for the CAPS, but I had to convey my distaste for this expense. See, the previous homeowners decided to put in cheap, poorly placed drains for our shower. Because of this, we were forced to gut the ceiling of the garage, tear out all the hot/cold feeds, drainpipes, sewer pipes and put in all new shut off valves. In addition, jack the garage, re-joist the floor boards, re-support the header, drop the ceiling down by 6 inches, re-insulate and re-drywall.
Sloppy work by previous homeowners = a small fortune for 30 something parents of 4 children. I won't tell you how much, but it's the # between 2 and 4 + three 0's. BLAH!
So, after we received the quote from our carpenter/plumber/tradesman extraordinaire, we set the remaining budget at $2600. We were determined to only spend (that crazy plumbing # that I didn't come right out and say) + $2600. FYI, did it ... BOOYAH!!!
Like what you see? Of course ... it's totally awesome. Well, stay tuned for the rest of the reveal. Come on, you didn't think that I would give it all to you at once, did you?
If you want an automatic reminder of the next Master Bathroom EXTRAVAGANZA post ... subscribe your email off to the side ----------------------------->>>>>>>>>>>>>>>>>
or check out the facebook page for daily updates! Stay tuned for the best part!
Ain't nothing but a GROUT thang Baby,
PS - isn't that MacKenzie Childs tumbler so cute! Mrs. K gave that to me and I put some dried hydrangeas in it. It's kind of my "Elf on a Shelf" .. I like to move it around from room to room. If you are wondering where she got it, check
this
out!
Mrs. Kelly Comment: You're such a tease. Also, we have the angled shower in our master bath so uh, do you want to come over and draft me some blueprints? You can shove them in my stocking!